New SilcoStar e-flow presented
This year, 2KM Germany participated at the K-Trade Fair Dusseldorf with a new system. The new version of the eflow from the SilcoStar range, comes with an innovative, more ergonomic design and additional standard features. Requiring minimum space, with low energy requirements and optimised barrel emptying, the advantages extend to significant annual savings and a number of customised options to suit specific needs.
Servo-electric driven Metering System
-Electro Servo drives
-Servo electric driven linear drive with fixing brake and planetary roller screw actuator
-Estimated lifetime of 10 years (at max. pressure of 200 bar and max. output of 49 tons per year)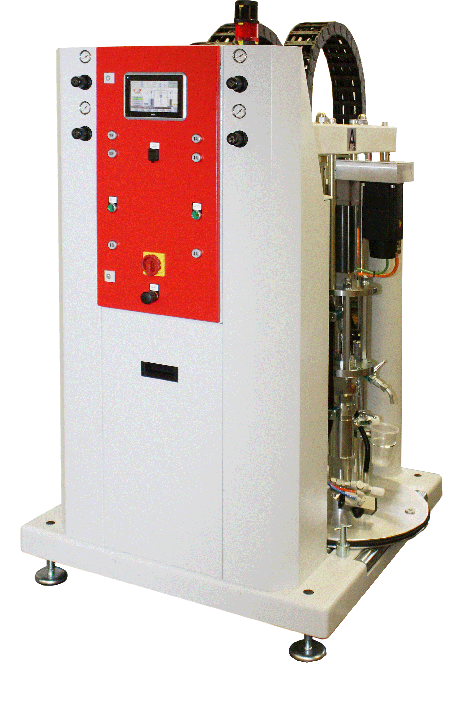 Optimised Barrel Emptying
The combination of two completely new developed systems reduces the residual quantity in the 200 l barrel to the minimum. The required follower plate deaeration, when a barrel is changed, is regulated automatically (optional) and the quantity is reduced to the minimum thanks to a new technology. The barrel support floor prevents dents in the baseboard. Different filling quantities of the A and B component can be balanced using gravimetric adjustment. The above mentioned technology reduces the residual amount in the empty drum by 1%.
Advantages
-Potential capacity savings through equal, complete and constant emptying of the delivery vessels
-Integrated roll-in device with automatic barrel bottom support
-2-sides operation
-Minimum space required
-Low energy consumption
Possible annual savings in a 3-shift-Operation
Shot weight 12g-Barell change: every 7 days. Savings: approx. 8,300.00€/a
Shot weight 5g- Barell change: every 4 days. Savings: approx. 18,200.00€/a
Shot weight 50g-Barell change: every 2 days. Savings: approx. 32,850.00€/a
Basic Equipment
-Integrated roll-in device with automatic barrel bottom support
-Filling level control
-Programmable Logic Controller (Beckhoff PLC) with operation display
-200L follower plate (optimization of residual quantity)
-Pressure sensors warning for lack of material and overpressure
-Standard machine connection (mixer block, outlet valve and static mixer)
-Adjustable mounting foot for easy placement of the machine
-Varnishing in standard paint (RAL 7035 and RAL 9003)
Options
-Automatic follower plate daeretion
-20 l follower plates
-Metering control of A and B component
-Colour feeding 0.7 l pressure vessel, 10 l colour feeding pump, 20 l colour feeding pump with optional agitator
-Cooled static mixer
-Reciprocal feeding of two LIM units
-Colour shortage control by pressure sensors
-Varnishing in customised paint
Download the brochure here!