SilcoStar e-Flow: Advancing Injection Moulding
In 2010, at the K-Trade Fair Dusseldorf, 2KM drew the silicone market's attention with the newly developed SilcoStar e-Flow. New features allowed better control of the whole process in an efficient and cost effective way.
Servo Electric driven Metering System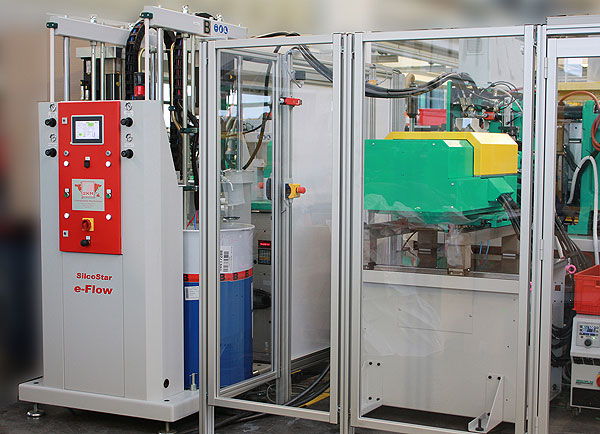 Unlike the usual drive systems, the two metering pumps on the new system were actuated servo-electrically. This new development was led by the rising demand for all-electric injection moulding units with clear advantages when it comes to energy consumption and uncomplicated use in the clean room for medical and pharmaceutical LSR applications.
Total control
Following several development stages, improving the used actuators, control and layout, the latest version of the SilcoStar e-Flow is now one of most well proven systems for the process of Injection Moulding. One of the most important characteristics which 2KM has been able to develop is complete machine control. Handling the whole process has been made considerably easier, offering the user, besides the familiar volume flow control, the possibility to regulate the mixed material pressure. The mixed material pressure is measured and controlled where it actually matters: at the place of the machine connection onto the injection moulding unit.
Even the smallest fluctuations on the screw speed lead to pressure condition changes and density inconsistency in the metering process. These changes can cause injection errors, especially in the case of multi-cavity tools.
Thanks to the newly developed 2KM mixed material pressure control, the SilcoStar e-Flow automatically adjusts to the dynamic pressure of the injection moulding unit. Time-consuming adjustments carried out by the machine setter are eliminated, ensuring the high quality requirements of the LSR processors.
Another great advantage of the SilcoStar e-Flow is the integrated roll-in device with drum floor support for an optimized emptying of the drums. Different filling levels or material consumptions of the two components can be taken into consideration. The gravimetric adjustment of the drum filling levels ensures even emptying. The new, ergonomic characteristic of the basic machine equipment facilitates handling of the drums and can help cutting costs by minimising residues.
Automatic Deaeration
The optional following plate deaeration is another feature which simplifies the drum changing process. When running the follower plate into the new drum, the air under the follower plate automatically escapes, and the operator does no longer need to open or close the deaeration valve.
Picture: Two-component injection moulded part for suction. Pads made from PBT and LSR
Optimised Barrel Emptying
The new version of the 2KM SilcoStar e-flow will be hosted in a number of industry leading exhibitions throughout the year giving everyone the opportunity to check out the new features.