PGM 101/102 Overview
The Process Gear Mix (PGM) 101/2 is the entry level version of the successful range of gear metering systems designed for the processing of low viscosity materials.
The 101 system utilises medium speed gear pumps designed to process materials at flow rates to 4 litres per minute with the 102 using precision gear pumps for precision dispensing against higher pressures.
Both systems utilise the PGM philosophy of individually driven pumps operated by inverter controlled, geared AC motors. The motors are directly coupled to the pumps enabling system pressures of up to 60 bar to be achieved.
The system has easy use control systems with potentiometers used to adjust ratio and flow.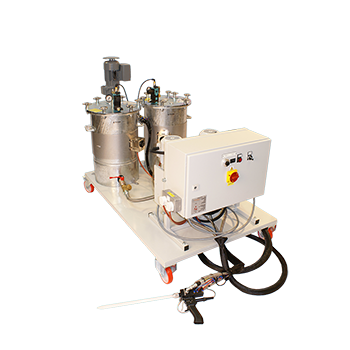 Metering technology
Twin drive, Inverter controlled Gear metering system
Ratio range
30:100 through 100:100 to 100:25 with 2 identical pumps ratio to 100:1 with varying B pump
Output (depending on Viscosity)
101 output to 4000 cc/min at 100:100 ratio
102 output to 1800 cc/min at 100:100 ratio
Viscosity range
With gravity feed 5,000 cps
With pressure feed to 50,000 cps
Maximum operating pressures
60 bar
Mixing options
Disposable Static
Disposable rotary static
Metering control
Not available
Control systems
Potentiometer based system with inverters
Services
240 volt single phase 13 amp
8mm pneumatic supply 6 bars
Options available
Pressure vessels
Heating
Agitation
Area of application
Industry
Process
Moulding
Rapid Prototyping
Pre-production automotive parts
Casting
Table edging on furniture
Props for film industry
Laminating
Fabric or Film coating
Metering of silicone on to coating line
Coating
Various
Processing of fast reaction PU
Typical materials processed:
Epoxy
Polyurethane
Silicone
Methacrylate